1.2 GHz SJ-3B/3BS Variable Attenuators produce flat (even) loss across Cable TV forward and reverse frequency band. The attenuators are used during amplifier balancing to adjust amplifier signal levels as needed. The step variable loss produced (dB) is between 0 dB to 10 dB or 0 to 20 dB. The attenuators are rated for operation up to 1.2 GHz. Within specific amplifier types, the attenuators are also used as equalizers.
Reel packaging with SJ-3SB type, easy for SMT assembly.
Item

Units

Value

Attenuation Values

dB

0 - 10

0 - 20

Frequency

MHz

0 - 1200

Insertion Loss

dB

≤ 1.0

Return Loss

dB

≥ 12.0

Impedance

Ω

75
Note: Unless otherwise noted, all specifications reflect typical performance and are referenced to 68°F (20°C). Specifications are based upon measurements made in accordance with SCTE/ANSI standards (where applicable), using standard frequency assignments.

Dimensions
SJ-3B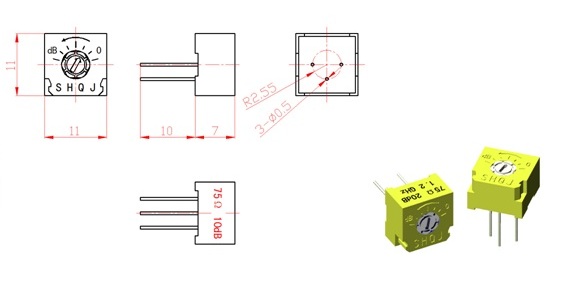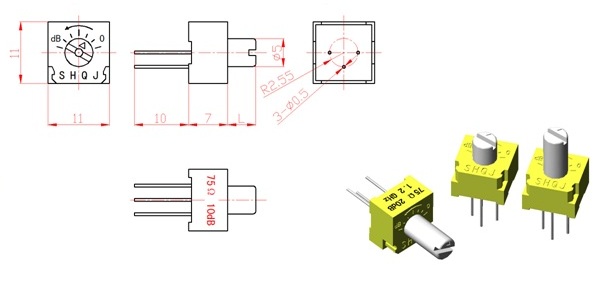 SJ-3BS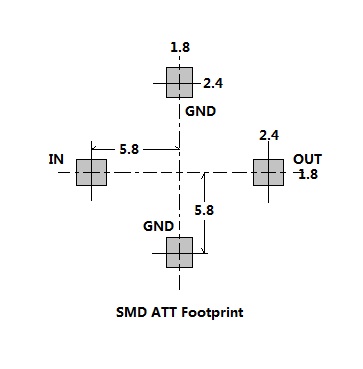 Shaft Size

Shaft diameter Ф( mm )

Shaft length L ( mm )

5

0, 5, 10
Bulk Package Type: SJ-3B-10dB, 0 - 10 dB Variable
SJ-3B-20dB, 0 - 20 dB Variable
Reel Package Type: SJ-3BS-10dB, 0 - 10 dB Variable, 500 piece reel
SJ-3BS-20dB, 0 - 20 dB Variable, 500 piece reel