The Radio Frequency over Glass (RFoG) solution enables cable operators to offer a Fiber-to-the-Home (FTTH) architecture without changes to standard equipment in the headend or home.
With the success of RFoG deployments comes an issue, Optical Beat Interference (OBI), it can be generated at the receiver.
RFoG Repeater is an OBI-free solution, enables multiple MAC domains and high-performance upstream operation in an RFoG environment, full DOCSIS 3.1 channel bonding to be deployed efficiently utilizing all available upstream bandwidth, allows multiple upstream RF channel transmissions and therefore, supports higher subscriber penetrations.

Features
l OBI-free, cost effective
l Passive optical distribution for downstream
l 16-way RF combination for upstream
l Support DOCSIS 3.1
l DFB laser for upstream
l LED indicators for optical input and output
l High-sensitivity, low-noise optical receiver
l -20dB external RF test points
l Variable attenuator for all adjustments of receivers output and transmitter input
l 19 inch, 1RU box, compact size
Specifications
Item

Units

Value

Downstream Section

Wavelength

nm

1550 ± 20

Optical Insertion Loss

dB

≤ 15

Optical Connector

-

SC / APC

Optical Return Loss

dB

≥ 45

Upstream Section

Optical Input Power

dBm

≥ - 5

Receiver Wavelength

nm

1610 ± 20 (other optional)

Transmitter Wavelength

nm

1610 ± 20 (other optional)

Optical Output Power

dBm

2 (other optional)

Optical Connector

-

SC / APC

Optical Return Loss

dB

≥ 45

Frequency Range

MHz

5 - 85 (other optional)

RF Test Point

dB

- 20 ± 0.75

General Section

Power Supply

VAC

100 - 240

Power Consumption

W

< 22

Power Cord

-

Optional

Dimensions (W x H x D)

mm

483 x 45 x 445

Weight

kg

4.9

Operating Temperature

°C

0 - 55

Storage Temperature

°C

- 20 - 70
Note: Unless otherwise noted, all specifications reflect typical performance and are referenced to 20°C.
Block Diagram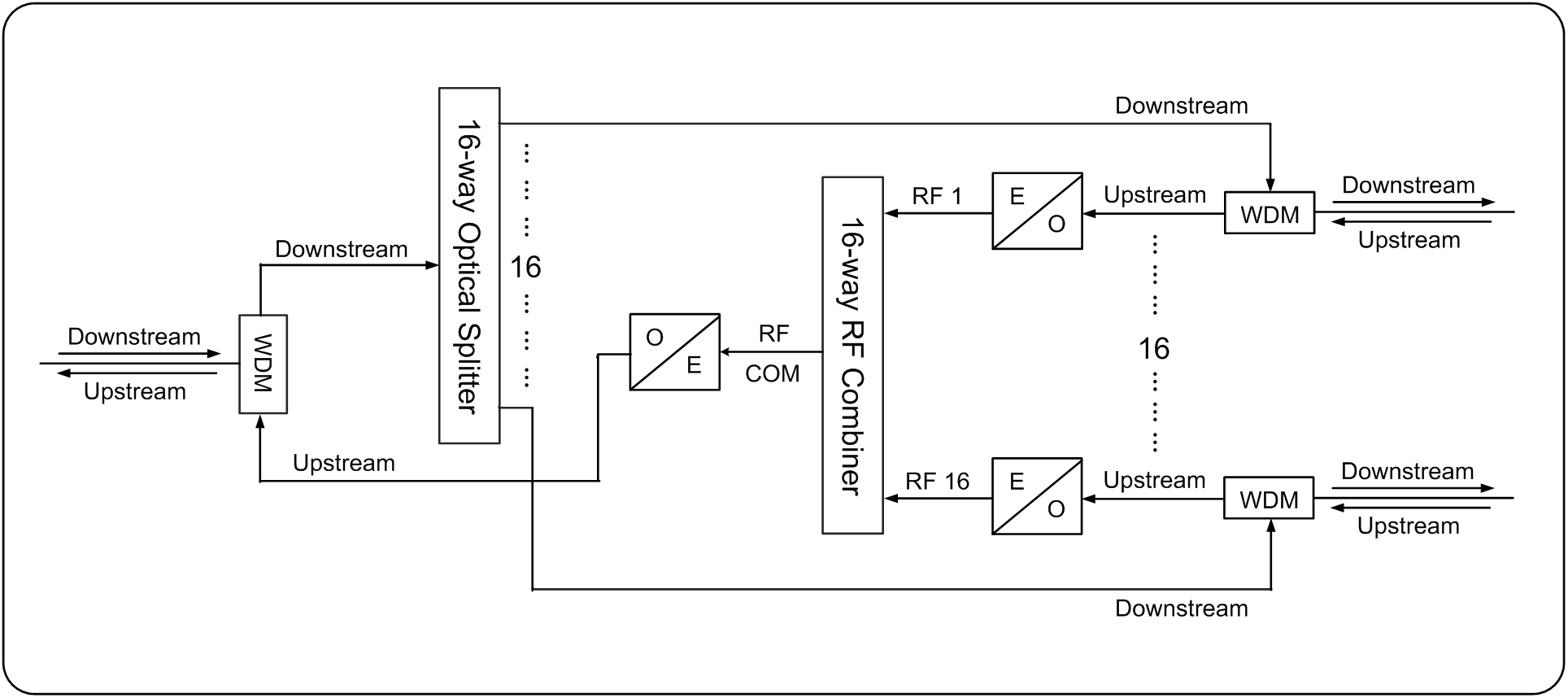 Ordering information
The product is available in a wide variety of receiver wavelength, reverse transmitter's wavelength and upstream frequency range. Consult your Customer Service Representative or Applications Engineer to determine the best choose for your particular application.
| | |
| --- | --- |
| Description | Part Number |
| RFoG Repeater, 1550nm Downstream, 1610nm Receiver & 1610 Reverse Tx, 5-85, EU cord | 9938000400 |