258 - 1218 MHz High Pass Filter has a cutoff frequency of 258 MHz. It works out to 1218 MHz. This filter isolates the reverse band, together with additional filtering provided on the amplifier motherboards, such as diplexers, has enough isolation to prevent the ingress from unwanted signal. It also provides enough isolation so that there is no interference between the forward and reverse paths.
Several different lengths can be optional such as 1", 1.26", 1.37", etc.
These accessories can be used for all the nodes, amplifiers, line extenders, etc.
Specifications
Item

Units

Value

Frequency

MHz

258 - 1218

Insertion Loss

dB

0.4 @ 262 - 1218 MHz

dB

1.1 @ 258 - 262 MHz

Stop Band Loss

dB

35.0 @ 5 - 204 MHz

Return Loss

dB

20.0 at 258 MHz, 1.5dB / Octave

Impedance

Ω

75
Note: Unless otherwise noted, all specifications reflect typical performance and are referenced to 68°F (20°C). Specifications are based upon measurements made in accordance with SCTE/ANSI standards (where applicable), using standard frequency assignments.
Dimensions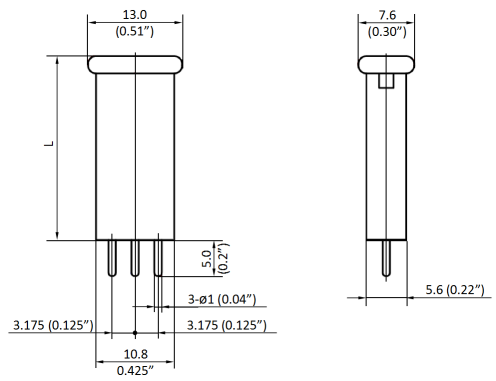 L = 25.4mm (1 inch), or 32.0mm (1.26 inch), or 34.8mm (1.37 inch)

| | |
| --- | --- |
| Description | Part Number |
| 258 - 1218 MHz JXP High Pass Filter, 1 inch, Red | 9909000305 |
| 258 - 1218 MHz JXP High Pass Filter, 1.26 inch, Red | 9909000306 |
| 258 - 1218 MHz JXP High Pass Filter, 1.37 inch, Red | 9909000307 |